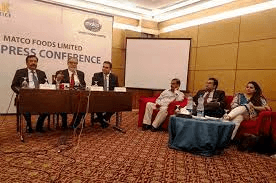 Description of Transaction:
AHL acted as the Lead manager & book runner for Matco Foods Limited and successfully completed the IPO by raising PKR 758 Million for the Company.
In book building total participation received was 30,418,770 shares against the issue size of 29,143,000 shares
The book building portion was over subscribed by 1.044 times
Strike Price was PKR 26 /share
---
About the Issuer:
Matco Foods Limited is a leading Food Processing & Export Company in South-Asia.
Products include basmati rice, rice glucose, rice protein, Himalayan pink salt, spices, dessert mixes and more.
As the largest basmati rice exporter from Pakistan, the company has over 50 years of experience in the rice industry, and more than 150 corporate customers, with the flagship brand "Falak" available in more than 65 countries worldwide.